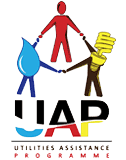 The Utilities Assistance Programme (UAP) is a social intervention strategy, introduced by the Government of Trinidad and Tobago in 2010, which provides financial assistance to eligible citizens to ensure their continued access to basic utilities such as water and electricity. The Programme is aimed at enhancing the real income of beneficiaries by cushioning the effects of the rising costs of public utilities.
The Programme is managed by the Ministry of Public Utilities in collaboration with the Trinidad and Tobago Electricity Commission (T&TEC) and the Water and Sewerage Authority (WASA).
Programme Benefits
The UAP provides assistance under the following three (3) components:
Utilities Bill Assistance:
This UAP's Bill Assistance extends a subsidy, to low income customers WASA and T&TEC by application of a credit to the beneficiary's utility bill.

Electricity Subsidy
T&TEC customers benefit from an electricity subsidy of up to $200 per bill or a   maximum of $1,200 annually. The subsidy is applied to T&TEC's bills bi-monthly to coincide with billing schedule.
Water Subsidy
WASA customers benefit from an annual water subsidy as follows:A2 customers - $140; and A3 and A4 customers - $200.Applicants eligible for this subsidy are:

Persons in receipt of the Senior Citizens' Pension, Disability or Public Assistance Grant, or TT Food Card.
Persons who are 65 years or older and in receipt of a monthly income of $5,000 or less inclusive of national insurance and pension benefits;
Persons who are certified as having a disability and who earn less than $5,000 per month;
A WASA residential customer who owns one property in Class A2, A3 or A4 and meets one of the criteria at a, b, or c.
A T&TEC residential customer with an average consumption over three (3) billing periods (6 months) of is 680kWh or less and meets one of the criteria at a, b, or c.

Water Tank Assistance:
The Water Tank Assistance Facility provides a one-time assistance of a water tank and fittings to  low income households and community based facilities within affected communities, that receive a pipe borne water supply of 72 hours or less per week. It is aimed at ensuring that citizens have safe storage of water for daily use and to reduce the spread of the dengue virus in high risk communities which do not receive a regular supply of water and have inadequate storage facilities.Applicants eligible for this assistance are:

a low income family household with income of no more than $7000 per month or a community facility used by groups such as CBOs, NGOs and FBOs;
a household or community that depends on truck borne water or a pipe borne water supply of 72 hrs or less per week;
a household or a community organisation that utilizes a community facility that lacks suitable water storage; or
areas identified by the Ministry of Health as high risk for the spread of the dengue virus.

Solar Panel Assistance:
The provision of a solar panel system which will provide an electricity supply to households in remote areas which are unable to access an electricity supply.Applicants eligible for this assistance are:

Low income households in remote areas with an income of $10,000 or less and located in an area outside of the current electricity grid where it has been identified as uneconomical for the installation of T&TEC's electricity infrastructure.
HOW TO APPLY
Persons interested in applying to the UAP should complete the appropriate application form which can be obtained from the Ministry of Public Utilities located at One Alexandra Place, #1 Alexandra Street, St Clair. Application forms are also available on the MPU's website www.mpu.gov.tt or any ttconnect location.
All applications must be submitted to the Ministry for processing.
The following documents must accompany the application form upon submission:
Applications for the subsidy on WASA and T&TEC bills:

All Applicants

Valid form of identification
Copy of Land Title/Certificate of Comfort
Land Tax Receipt /Certificate of Assessment
WASA and/or T&TEC Utility Bill

Beneficiaries of the Social Assistance Programmes (Senior Citizens Pension, TT Food Card and Disability and Public Assistance Grants)

Proof of Receipt of Welfare assistance or grants/Social Assistance File number.

Other Pensioners

Proof of Income i.e. NIB slip and/or Employment pension statement/slip

Other Persons with Disabilities

Proof of permanent disability from a Medical Officer of the Ministry of Health or Regional Health Authority
Proof of Income - (Letter of employment, payslip, etc)

Applications for Water Tank Assistance

Households

Valid form of identification
Proof of income (job letter, social assistance slip/letter)

Community Facilities

AGM report
Minutes of last meeting
Annual Report (applicable to managers of facilities)

. Applications for Solar Panel Assistance

Copy of Valid form of identification
Proof of Land Tenure (Government Land and Building Tax Receipt and Copy of Title Deed or Certificate of Comfort or Letter of non-obligation from the Land Settlement Agency or other relevant Authority
Proof of income (job letter, Social welfare slip/letter)
Letter from T&TEC regarding Applications for Electricity
---
Brochure

:
---
Utilities Assistance Programme (UAP) Application Forms

:

download below or collect from the Ministry of Public Utilities, Head Office

Note: Completed forms should be dropped off at the Ministry of Public Utilities Head Office
---
For additional information please contact the Customer Service Unit at:
Ministry of Public Utilities
One Alexandra Place,
1 Alexandra Street,
St Clair, NEWTOWN, 190129,
Trinidad and Tobago
Phone:
(868)628-9500
Ext.:
4314;
Fax:
(868)628-0105
Email:
Click Here
---
To learn more about the quality of service you should expect from us, please read:
Our Standards of Service
and Customer Service Charter