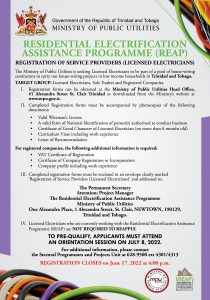 REGISTRATION EXTENDED TO June 17, 2022 AT 4:00 p.m.
Residential Electrification Assistance Programme (REAP)
REGISTRATION OF SERVICE PROVIDERS (LICENSED ELECTRICIANS)
The Ministry of Public Utilities is seeking Licensed Electricians to be part of a pool of house-wiring contractors to carry out house-wiring projects in low income households in Trinidad and Tobago.
TARGET GROUP: Licensed Electricians, Sole Traders and Registered Companies.
TO PRE-QUALIFY, APPLICANTS MUST ATTEND AN ORIENTATION SESSION ON JULY 8, 2022.
For additional information, please contact the Sectoral Programmes and Projects Unit at 628-9500 ext 4301/4313
REGISTRATION CLOSES on June 17, 2022 at 4:00 p.m.
Click HERE to download full details of Registration of Service Providers (Licensed Electricians) for REAP Programme Ad.
Download Registration Form for the Provision of Housewiring Services HERE